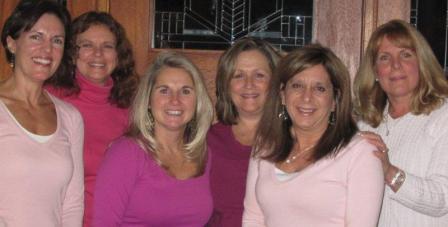 Six Southborough mothers. Two days. Thirty-nine miles. A fundraising target of more than $10,000. And a singular goal.
Southborough moms Sally Fodor, Nancy Barton, Marie Lescalleet, Sally Murphy, Ellen Factor, and Sue Butka will participate in the 2-day, 39-mile Avon Walk for Breast Cancer in Boston on May 15 and 16. The women say breast cancer has touched all of their lives, and now they're "In It To End It."
The group, which calls itself the Sobo Mamas, hopes to raise at least $1,800 each, for a total of $10,800, to help further breast cancer research and awareness. With nearly $7K raised so far, they're well on their way.
On the Avon Walk for Breast Cancer website, the Sobo Mamas said they're spending a lot of time training and fundraising. "It's a big commitment … But breast cancer is a big disease, one that still affects far too many people, and we are determined to do everything we can to help put an end to it."
You can help the Sobo Mamas reach their fundraising goal by donating here: www.avonwalk.org/goto/sobomamasdonate.