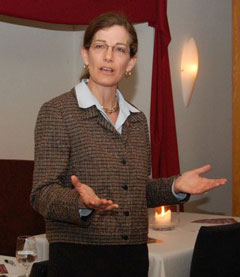 Framingham resident Mary Z. Connaughton wants to be the next state auditor. A Republican, Connaughton is running to replace current auditor Joe DeNucci in the November election. On Saturday a group of Southborough residents will host a reception for Connaughton at the Community House. Anyone is welcome to attend.
On Saturday March 20, 2010, from 4:00 to 6:00 pm, Southborough friends of Mary Z. Connaughton will be holding a "Meet & Greet" at the Southborough Community House, 28 Main Street, Southborough. Mary Z is running for the position of State Auditor, which is a very important "watchdog" and "oversight" office: "To ensure that tax dollars are not being wasted, the Auditor's office can conduct audits of all departments of state government, and even of the contractors and vendors that do business with the state. The office has a major role overseeing the $8.7 billion Massachusetts is expected to receive under federal stimulus legislation."

Please come by to meet Mary Z and learn why she is the best candidate to be our next State Auditor.

For more information about Mary Z and the office of State Auditor, please check out www.maryforauditor.com.