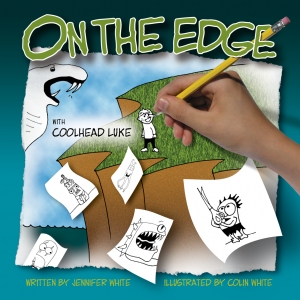 From the Southborough Library:
Grafton residents Jen and Colin White, creators of the bestselling Coolhead Luke children's book series, return to the Southborough Public Library with their latest release: On the Edge With Coolhead Luke.

Colin White, currently a 9th grader at Grafton High School, created the quirky illustrations while his mom, Jen, authored the corresponding poems. Mother and son will make their appearance during school vacation week on Saturday, April 17th at 11am. They will talk about the process of publishing a book together and will read and present their funny poems and illustrations. Your kids are guaranteed to laugh! Free gifts will be given to each attendee and autographed books will be available for purchase.

"Jennifer's funny poems and Colin's delightful illustrations play off each other beautifully. Together they invent a cast of bizarre characters, each of whom is presented with a unique set of challenges and absurdities. The poems are composed in an animated, jaunty style that is a joy to read. In the midst of the fun, there are teachable opportunities to demonstrate the fundamentals of poetry, including a teacher's guide in the back of the book. Ideal for ages 7-12, this is a charming collection for children and parents alike." (Amazon.com)

Join Jen and Colin on Saturday, April 17th at 11:00am at the Southborough Public Library on 25 Main St. in Southborough.

And for a preview of the books, check out Jen and Colin's website at www.coolheadluke.com.

This program is supported in part by a grant from the Southborough Cultural Council, a local agency which is supported by the Massachusetts Cultural Council, a state agency.