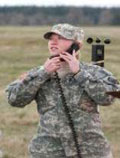 Courtney Wilson is a long way from home. A first lieutenant in the US Army, the Southborough native has been stationed in Afghanistan since March. This weekend you'll have a chance to make her, and others like her, feel a bit closer to home.
Wilson's mother Debbie Depp-Wilson, together with Southborough resident Lisa Braccio, have organized a troop drive in Wilson's honor. Troop drives have become a semi-annual tradition in town going back to 2005. Thousands of boxes of granola bars, beef jerky, playing cards, and other "touches and tastes" of home have been sent from Southborough to troops overseas.
This latest drive in Wilson's honor kicks off on Saturday at 9:00 am. Home base is the Senior Center where donations will be collected, sorted, and packed up over the course of the weekend. They'll get mailed out on Monday.
You can help by donating items, writing letters to the soldiers — which Braccio says are what the troops treasure most — or by volunteering this weekend to organize and pack boxes. Check out the event flier for more details, including a list of requested donations.
Drop off your donations at the Senior Center from 9:00 am to 4:00 pm on Saturday, or 9:00 am to 3:00 pm on Sunday.