Perhaps it's the amount of open space we have. Or the number of 5K's held in town. Whatever the reason, compared to other communities in the state, Southborough is a relatively fit town.
A joint study published last year by a team from the UMass Medical School and the state Department of Public Health, measured obesity rates in communities and city neighborhoods across the state. Of the 389 communities in the study, Southborough ranked 43rd, with 16.1% of adults considered obese.
The fittest communities around? Cambridge (7.7%), Back Bay/Beacon Hill (8.7%), and central Boston (8.7%). Urban areas also ranked at the bottom of the list, with Roxbury (36.0%) and Mattapan (36.8%) having the highest obesity rates.
Here's how other towns in our area fared.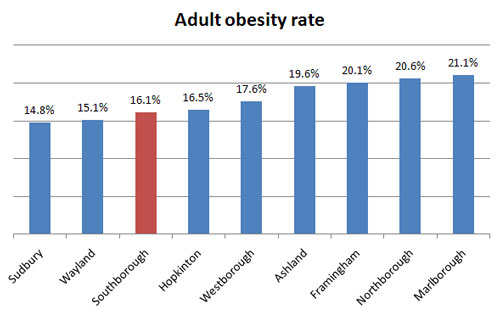 What do you think? Are you surprised that we're so healthy relative to the rest of the state? Or do your well-worn running shoes offer all the proof you need?