Please join me in welcoming the latest My Southborough sponsor, Culinary Underground. Keep reading to learn more about what the Culinary Underground has to offer. For information on how to become a My Southborough sponsor yourself, click here.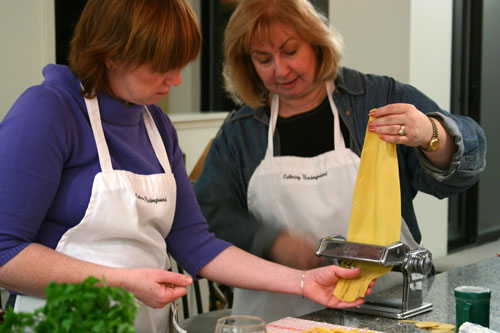 It's got to be one of the most unique houses in Southborough, and it's what gives the Culinary Underground School for Home Cooks its name.
Chef Lori Leinbach founded the cooking school many years ago in the kitchen of her home on Hillside Avenue. It's a berm house built right into the hillside, with turf for a roof and huge south-facing windows that flood the kitchen with light. Having taken a class at the school, I can tell you it's an amazing spot to learn to cook some amazing food.
Classes are geared for people who cook at home. They're small — no more than eight participants — hands-on, and technique-driven. Students learn through a combination of instruction and demonstration, and by preparing delicious dishes and menus. The atmosphere is informal, fun, busy, and informative. And best of all in my opinion, you leave the class with leftovers.
The fall class schedule offers something for everyone, from canning and preserving to Asian appetizers to fall soups and more. You can check it out on the Culinary Underground website (culinaryunderground.com). While you're there, sign up for their newsletter. There are some exciting changes coming this fall for Culinary Underground, and with the newsletter you'll be the first to know.