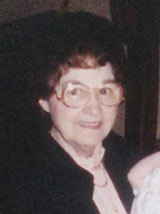 Patricia Mary Burns, 85, of Fayville, MA; passed away, Wednesday, Oct. 12th at Kathleen Daniel Nursing Home in Framingham. A resident of Fayville for over 55 years Patricia worked for TJ Maxx Distribution in Worcester for 35 years before retiring in 2006.
Mrs. Burns is survived by two children; Lisa Goveia of Southborough and William Burns of Baldwinville, MA; three grandchildren; Amanda and Christopher Burns and Joseph Goveia; and one sister; Sylvia Kelly of Plainville, MA.
A funeral service will be held Monday at 10:00am in the Chapel of the Matarese Funeral Home, 325 Main St. in Ashland with burial to follow in Wildwood Cemetery in Ashland. Calling hours will be held Sunday from 2:00-5:00 PM in the funeral home. In lieu of flowers donations may be made to the Alzheimer's Association, P.O. Box 96011, Washington, DC 20090-6011 .
(Obituary courtesy of Matarese Funeral Home)