It's the last full weekend before Christmas, and my guess is many of you are still working on your holiday gift list. But if you're anything like me, you'll go to great lengths to avoid the mall. Fortunately, with so many wonderful gift-giving options in our own backyard, that's not hard to do. Need ideas? Just take a look at the My Southborough Shop Local Guide.
If it's Southborough-themed gifts you're looking for, be sure to stop by the Southborough Historical Museum during its hours on Sunday to check out their popular offerings – from medallions and 2012 photographic calendars, to books about the 1953 tornado, Deerfoot Farm, and the Cordaville Mills, as well as and the definitive work on Southborough's history Fences of Stone. Also consider picking up a copy of the Historical Society's latest publication, Southborough Memories, stories based on the memories of some forty long-time residents who grew up in Southborough in the 1920s through 1940s.
All make great gifts for the grown-ups on your list, as well as for the younger generation who will be fascinated by the tales of one-room schoolhouses and sledding across Route 9 with no traffic to worry about.
The Historical Museum is open on Sunday from 1:00 to 4:00 pm. It's located behind Pilgrim Church at 25 Common Street. You can also order items online.
Another great option for Southborough-themed gifts are books by Southborough authors. Look for these titles at your favorite bookstore.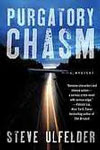 Purgatory Chasm by Steve Ulfelder
Steve Ulfelder's first novel, Purgatory Chasm, marks the debut of Conway Sax, a washed-up NASCAR driver and enforcer for a renegade AA group. Conway reluctantly agrees to help a fellow AA'er retrieve his classic car from a shady garage. When the friend turns up dead, Conway is determined to solve the crime – which forces him to dig up ghosts from his own past. This locally set hard-boiled novel has been nominated as Best First Mystery of 2011 by "RT Book Reviews."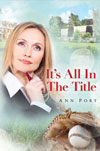 It's All In The Title and The Bernini Quest by Ann Port
ANN PORT recently published It's All In The Title, which combines mystery, romance, and humorous anecdotes about running a major league baseball team. Carolyn Charlotte Cleveland is president of a fictional baseball team, the Indianapolis Knights. She inherits an English title and an enormous amount of money from her father, an English earl whom she never met. When she travels to England to reject the title, she unexpectedly becomes embroiled in a mystery! Port's second novel The Bernini Quest is also newly published.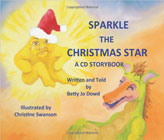 Sparkle the Christmas Star by Betty Jo Dowd
In the CD storybook version of the children's musical, Sparkle the Christmas Star falls out of the sky. With the help of a princess and a dragon named Darius, Sparkle tries to find a way back into the sky in time to light the way for Santa's sleigh. The CD included is told and sung by the author.