On Wednesday, May 2, the Southborough Library will host its annual Candidates' Night. The event is a chance for you to hear from the candidates directly. You also have the opportunity to ask questions.
All the candidates from this year's contested races have said they will attend. Candidates from some of the uncontested races are also expect to be there.
Here's the flyer with more information.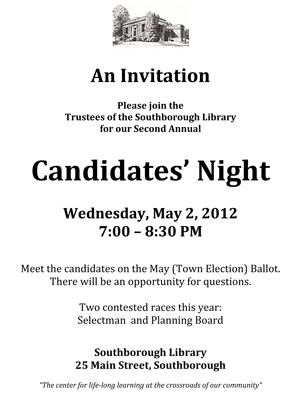 Note to the candidates: As I have in past election seasons, I offer any of you space on the blog to get your message across. If you're interested in doing a 'Meet the Candidate' post, please get in touch (mysouthborough@gmail.com).