[This is the latest in an occasional series by Beth Melo, a Southborough mom who loves to read to her kids. In this installment, Beth shares recommendations for books that deal with bad behavior. This post was originally published on the Southborough Library website, and has been reposted here with permission. For more of Beth's book recommendations, click here.]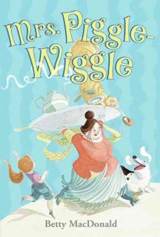 I have always treasured summer for the extra family time.  I think of all the joyous experiences and special occasions.  I forget that extra time with the children means more time for their behavior to get on my nerves. Each summer I seem to have at least one new pet peeve.
I'm sure that by mid-summer many parents like me have had it up to their ears with their own kids' behavior – though that behavior may vary.  I'm not a psychologist.  So I can't offer advice as to how to get your child to stop whining, lying, throwing tantrums or tattling.  But there are a lot of books out there that try.
I feel like at this point I've been through (but not done with) most of these terrible phases.  Along the way, I've discovered some good books.  Some books just help me laugh my way through it.  Most books at least offer an opportunity to talk things through.  (None offered a magical cure.  If only!)   Sometimes a book doesn't fully match my parenting style.  When a book teaches something that I disagree with, I simply point that out to my children and explain why.
Here are books that I recommend:
Behavior Series – These are the kinds of books usually found on the parent shelf.  Because they are teaching books, they explore each topic thoroughly.  The downside is that for younger children this may make the books too long and/or lecturing.  When I'm really concerned about certain behavior, I use these books but also try to mix in picture books that are more fun.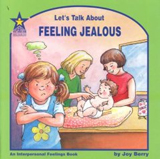 For toddlers to preschoolers –
Joy Berry's recent Let's Talk About series – focuses on the emotions behind behavior with topics like Feeling Angry, Being Shy, Needing Attention andFeeling Jealous.  Each book focuses on one child, narrated by its pet who points out feelings caused by different situations and that you too might feel this way.  Brief text explains appropriate ways to handle these feelings.
Berry's other series,  A Children's Book About, centers on actions.  They require a longer attention span than the above mentioned series.  And, given the books' focus on bad behavior, children may become defensive.  But they are straightforward, deal with important topics, and teach better conduct.   Behaviors are explained with example situations and clear consequences.  The underlying theme seems to be that other children won't want to play with you if you behave this way.  Depending on your child this may or may not resonate.  A Children's Book About topics are: Breaking Promises, Cheating, Complaining,Disobeying, Fighting, Gossiping, Interrupting, Lying, Overdoing It, Showing Off, Snooping, Stealing, Tattling, Teasing, Throwing Tantrums, Whining.  A Children's Book about Being topics are:  A Bad Sport, Bossy, Bullied, Careless,Destructive, Forgetful, Greedy, Lazy, Mean, Messy, Rude, Selfish, andWasteful.
Young school aged children:
Grolier Limited published the series What it Means to Be.  Each book features short stories focused on modeling positive traits:  Honest, Good Sport, Fair,Caring, Modest, Responsible, Careful, Confident, Organized, Proud, A Leader,Self Disciplined, and Trustworthy.  The characters are mostly children who learn from their own mistakes or from each other.  These can be a bit long, but I like the philosophy.
"A Golden Learn About Living Book" series includes:  Little Lies, Big Lies,What's Mine is Mine, and It Isn't Fair.  In these books, author Barbara Shook Hazen seems to be trying to teach parents about rules for life as much as she is teaching children.
Miscellaneous conduct – these aren't "parenting" books, but still cover a range of behavior:       
I loved reading Betty MacDonald's classic Mrs. Piggle-Wiggle to my daughter.  (It's too long for my preschooler.)  Each chapter explores a different child's obnoxious behavior.  The title character's solutions are creative and amusing (e.g,, parents that stage absurd fights and cry over everything to show their children how ridiculous their own fights are).  It provides a fun opportunity to discuss behavior without lecturing.  I was less satisfied with the sequels.  They still show ridiculous behaviors, but the cures are now magical instead of logical (e.g., leadership pills that turn a horrible bully into a model child.)
Though I enjoy the original Winnie the Pooh stories more, the picture book paperback series cover some good behavior issues.  Children who enjoy these characters from the movies will be inclined to learn from them.  We have benefited from:  Just Be Nice and Not Too Rough, Just Be Nice – and Let Everyone Play, Oh, Bother! Someone Won't Share!, and Be Patient, Pooh.
I can't tell you why, but I've never quite connected with the Berenstain Bears.  But my children have, frequently pulling their books from the paperback section.  So I have been known to use these to talk about conduct.  With more than 350 books in the series, Stan and Jan Berenstain have covered about every behavior topic and family situation imaginable.  Chances are there is one that will work for you.
The following books are broken down by behavior issues: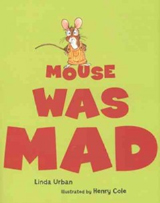 Handling Rage –
Lying – That's Mine, Horace by Holly Keller is a good starting point for talking about honesty.  Horace takes a toy car abandoned on the playground.  When he learns it belongs to his friend, he lies and keeps it.  Horace feels terrible to the point of being sick (though it's not clear how much is fear versus guilt).  It is only once he realizes that his friend will forgive him if he returns the car that he feels better.  I don't like that he never acknowledges his guilt.  But I do like that even though he wasn't caught by an adult for lying he felt consequences.
Tattling – Don't Squeal Unless It's A Big Deal by Jeannie Franz Ransom and aBad Case of Tattle Tongue by Julia Cook are good ones.  It can be hard to teach this to kids.  We want them to report bullying or dangerous behavior.  We tell them to tell us when there is a problem instead of hitting their siblings.  We tell them to explain their feelings.  Then when they whine to us about every way they feel wronged, we tell them to stop tattling.  These books help explain the difference between when to tell and when it's tattling.  Both give examples and outline some rules to follow.  (OK, I confess that mine still can't grasp it.  But it's a starting point.)
Carelessly Hurting People –
For young toddlers that are inappropriately physical, I like No Biting! by Karen Katz and Hands are Not for Hitting by Martine Agassi.
For preschoolers and kindergartners who play too rough, I like Hands Off, Harry! by Rosemary Well, the Pooh book Just Be Nice–and Not Too Rough! by Eleanor Freemont, and Lively Elizabeth! by Mara Bergman.  Each book focuses on a central character that is likeable but plays too roughly.  Children will identify with these characters who are trying to play, not trying to make their friends angry.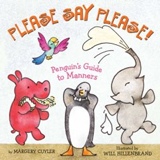 Manners/Good Conduct:
Friendship/Fair Play:
Russel Hoban's Best Friends for Frances offers a good lesson about friendship and inclusion, especially for siblings.  Frances learns that she doesn't like the way it feels when her friend starts treating her the way she has been treating her sister.
In You're Mean, Lily Jean by Frieda Wishinsky, the title character bosses around the sisters next door.  When the sisters stand up to her, she is forced to play nice.
I hope some of these books help you survive special time with your family this summer.  If not, there's always camp!
As always, if you have any questions for me, feel free to e-mail becmelo@yahoo.com.  If you have any additional suggestions for other parents, you can post a comment below.