Each year millions of keys representing millions of dollars in scrap metal get tossed in the trash. When Southborough resident Emily van Nort cam across a large stash of spare keys while cleaning out a space in the Arts Center, she got an idea about how to use the keys to do some good.
Instead of throwing them away, Emily reached out to Acton-based Keys for Hope, a non-profit that collects and recycles spare keys and then donates the proceeds to local food banks. With their help, Emily has set up a key drive for Southborough that will benefit the Southborough Food Pantry.
Emily is excited about the key drive, and she's not the only one.
"I mentioned this idea to my 6-year-old. Her eyes lit up with excitement about collecting keys everywhere, and shopping for the food pantry," Emily said. "She wants to talk to her principal and extend the idea to the schools. I love her enthusiasm and I am equally excited about this endeavor."
Emily and her daughter have placed collection buckets throughout town, and they invite you to help by rooting through your junk drawers to find all those keys you no longer need. Drop them off in one of the buckets found at the Southborough Library, Swap Shop, Senior Center, and at each of the Southborough churches.
For more information, visit the Key for Hope website (keyforhope.org), and read this letter from Emily on how Southborough's key drive came to be. You can also find more details in the flyer below.
Emily will also collect keys at Heritage Day, and in conjunction with the Southborough Arts Council, is organizing an art project to go along with the collection. Bring a special key to Heritage Day and you can make a rubbing of it for your memory, and to contribute to an collaborative art project that will showcase Southborough keys.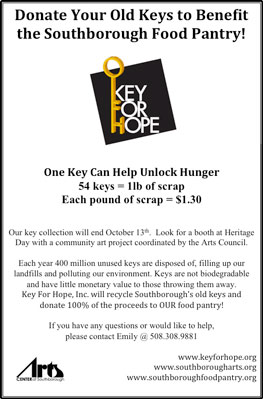 (Image posted to Flickr by pennuja)