Tomorrow is a big day for Conway Sax fans. The third installment of Southborough author Steve Ulfelder's mystery series featuring Sax, a Metrowest-based auto mechanic turned reluctant detective, will be released on Tuesday. I for one, can't wait to discover what trouble Sax finds himself in this time.
To celebrate the launch of this latest novel, titled Shotgun Lullaby
, Ulfelder will be at Tatnuck Bookseller in Westborough on Tuesday evening to read from and sign copies of the book. The event runs from from 7:00 to 8:30 pm and is open to the public.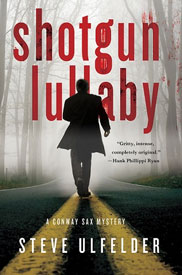 Here's a bit about the new release:
Shotgun Lullaby is the third novel in Steve Ulfelder's mystery series, which has been nominated for the prestigious Edgar and Anthony awards. This time around, rough-edged hero Conway Sax takes under his wing a recovering drug abuser who reminds him of his own son – a son he abandoned when he was a drunk. When a brutal triple-murder occurs in a Framingham halfway house, Conway must investigate to safeguard his young protégé.

Publishers Weekly gave Shotgun Lullaby a starred review. Booklist also raved about the novel, saying that "Dennis Lehane and Robert B. Parker fans will enjoy Ulfelder."