Five Southborough 7th graders are headed to the AAU Boys Basketball National Championships, June 22-30.  At least they will be if they raise the necessary funds.
The BSS (Basketball Specialist School) team is an elite group of players from Southborough, Northborough, Holden and Upton.  They recently won a place at Nationals in Memphis, Tennessee.  Now they are trying to raise enough money to cut the cost of the trip.
Southborough players, led by resident Coach Henderson are Jimmy Tobin, Seth Krivanec, Ben Burton, Kyle Henderson and JJ Levandowski.  The other team members are from Northborough, Holden and Upton.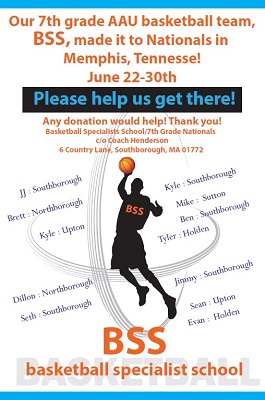 If you would like to support them, donations can be mailed to Basketball Specialists School/7th Grade Nationals, c/o Coach Henderson, 6 Country Lane, Southborough, MA 01772.