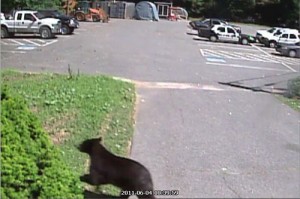 Last week, my husband was dismayed that the open shed allowed a small animal to get into our garbage and make a mess. It's a good reminder of a much larger "menace" that could be attracted to outdoor food sources.
One year ago last week, a young black bear ambled through Southborough.
Metrowest Daily News reported a black bear was sighted recently in Sudbury and Wayland. Last week, The Globe reported that police shot a bear in Newton.
So, it's probably time to put away your birdfeeders. Don't believe me? Check out this photo from Metrowest Daily News' report.
Feeling nostalgic? Here are some posts Susan ran on last year's bear sightings: