On June 23rd, 1:00 – 3:30pm, Tatnuck will host an author event for Southborough resident Meredith O'Brien's newly published Mortified: A Novel About Oversharing.
Some of you may be familiar with O'Brien through her blogs. This May, she published her first book. The story focuses on a suburban mother who writes a blog.
Of course, she is bombarded with questions about how "true" the story is. So, is this a fictionalization of her own life?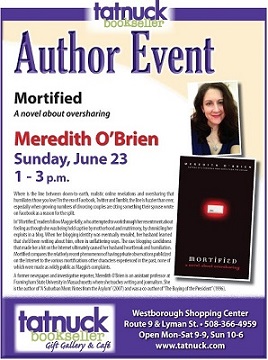 Absolutely not.  O'Brien writes, "I am not Maggie and Maggie — who blogs in a raw, profanity-laden, no-holes-barred, slash-and-burn fashion — is not me."
Mortified is the story of an anonymous blogger, Maggie, who runs into trouble after venting her personal feelings about her life and her family.
O'Brien writes under her own name (complete with posted photo) in the blog Picket Fence Post, about real life as a suburban mom of three. Her public persona keeps her from writing about private problems and emotions.
On June 23rd, O'Brien will field questions, talk about the inspiration for her novel and read an excerpt.  (More details are in the Tatnuck flyer to the right. Click to enlarge.)
This week, O'Brien gave me a chance to ask my own questions about her book and life as a blogger/novelist.

Q: You have made it clear that you are not Maggie. It sounds like you disapprove of some aspects of the character. Are there any ways that you are like her?
A: Maggie and I are very, very different on many levels. However there are a few little stories about Maggie, here and there, that were inspired by real life experiences.
For example, Maggie was totally overwhelmed by the flood of paperwork that her young children brought home from school and missed the flier about her daughter's in-school Halloween party. It was sitting in an unread mountain of paperwork in her kitchen. Her daughter tearfully called Maggie from the classroom telephone on the morning of the party to ask why she wasn't there since everyone else had a parent in attendance. That same thing happened to me except that parents weren't asked to arrive in costume as they were in the book. And I was just as embarrassed as Maggie was to be summoned to school by my kid.
Q: Are there any ways you wish you were?
A: I wish I had some I her devil-may-care attitude about things, however not so much that it gets me into the trouble she creates in the book.
Q: Obviously when Maggie's identity is revealed, she comes to regret things she has written. Have you ever posted something about your life or someone else that you later regretted?
A: I've tried to be very conscientious about that. I think there may have been one, maybe two times over the past 10 years I've written something and then, after hitting "publish," quickly changed my mind and deleted it. However those posts were never something angry. Usually they were about a funny anecdote that's on the edge of being TMI (too much information) but is very relatable to other parents. As my children have gotten older though, I no longer publish those kinds of tales.
Q: It sounds like you try to respect your family's privacy. How does your family feel about your blog? Has it changed over time?
A: When my children were very young I wrote quite candidly about the challenges and the insanity of raising small kids. The bizarre daily anecdotes — like about how one of the kids would eat all sorts of vile things like trash and cat food — were abundant and funny. Most parents have stories about strange things that happened when they dared to go to the bathroom, alone, for 30 seconds. I shared mine and was able to commiserate and laugh with others who were in similar situations.
My kids used to love the fact that I blogged and sometimes would say, "Hey Mom, blog about this!" When that changed to, "Mom! Do! Not! Blog! About! This!" I not only didn't blog about the matter but stopped using their names.
Now I rarely blog about my family any more and focus on other subjects like media, pop culture and news.
Q: Speaking of your other blog topics – I see that you have a second blog, Notes from the Asylum. Plus, you are a full time Journalism teacher at Framingham State, an adviser to their newspaper, and an author with a novel to promote. You are also working on a non-fiction book chronicling Trottier's band. Can you continue juggling all of these projects? Or will you be putting anything on hold?
A: I have had to temporarily put a hold my regular blogging because I've been intensely involved with research and interviews for my next book about the year in the life of a middle school band. Additionally, I developed a new class about online and social media this past spring at FSU — for which I also created a blog — and have been working on my syllabus for another journalism course this fall Something has to give, like sleeping and, currently, regular blogging.
If you have your own questions for the author, or would like to have her sign your book, stop by Tatnuck on Sunday afternoon.