I keep hearing warnings about Southborough's fiscal position and upcoming tax rate increases.
Selectman John Rooney has repeatedly sounded the alarm on the need for the town to control expenses. He warns that our property taxes will continue to grow in the coming years if we don't take necessary steps.
There has been some heated debate on this site about how to handle the tax problem. But it's been dominated by just a few commenters.
I assume many readers are like me. You are somewhat concerned, but have been lacking context. I did a little research and got some information from an old friend.
Here is a quick overview to get you up to speed.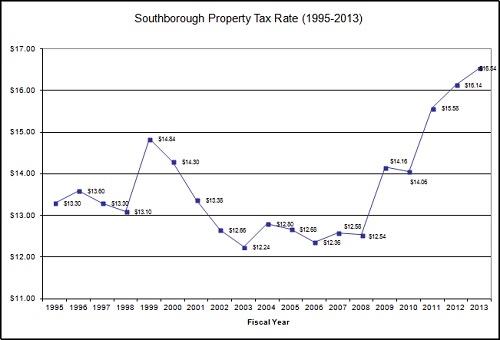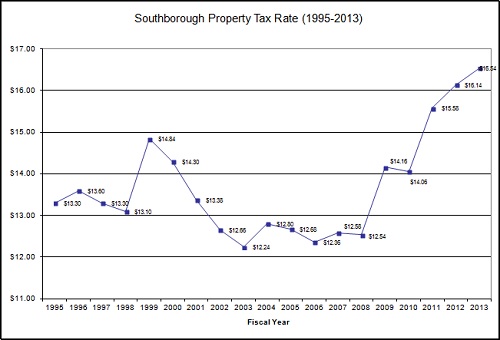 Southborough's municipal budgets were approved at the Town Meeting in the spring. But our tax rate for this year (FY2014) has yet to be decided.
Each fall that the Board of Assessors recommends the rate for approval by Selectmen. Last year the increase was 2%, and 4% the previous year.
Recently, an anonymous comment indicated that Southborough's ave. property tax bill increases since 2009 were below the state median. He said that a Globe article reported the town at about 9%, versus 13.5% median for the state.
Those figures apparently refer to the "average" bill. The actual tax rate for Southborough has increased by 17% since 2009, and 32% since 2008.
Carl Guyer recently proposed to split the rate (higher rate for commercial properties and lower for residents).
Proponents have pointed to the fact that commercial owners makes money off of their property. Opponents have noted that services for residents make up the bulk of the town's expenses. They have especially decried unfairness to small businesses. Guyer posits that his evidence shows split rates in other towns haven't hurt business growth. (You can read the debate in the comments under Guyer's proposal.)
What are your thoughts? I'd love to hear from some voices new to the debate. (That doesn't mean that I'm muffling the old ones.)
Which rate do you favor, single or split? Or do you have any new ideas for controlling the trending increase in property tax rates?