Here are highlights of what's happening in town this week. For more details and the full list, check the Event Calendar.
Monday, August 5, 2013:
Legos at the Library (10:00 am – 5:00 pm) @ Southborough Library: Stop by the library anytime during the day for some Lego building fun! Legos will be provided but need to remain at the library. (Parents or caregivers must stay with children.)
Cribbage (9:00 – 10:00 am) @ Senior Center
Tuesday, August 6, 2013:
Class in the Algonquin Garden – Composting with Paul Bourdon (9:00 – 10:00 am) @ Algonquin Regional High School: Meet at main entrance, then go out to the student garden (weather permitting) for this talk and hands-on class. Please pre-register by e-mailing shalpin@nsboro.k12.ma.us.
Night Skies (5:30 – 6:30 pm and 7:00 – 8:00 pm) @ Southborough Recreation: Limited Space, so pre-registration required through the Library or Rec Dept. Mike Francis will use Starlab (an inflatable planetarium dome) to teach about identifying Stars, constellations, Milky Way and other wonders of the night sky. Must be 10 years or older to register.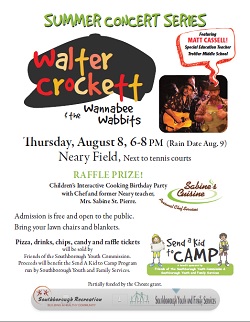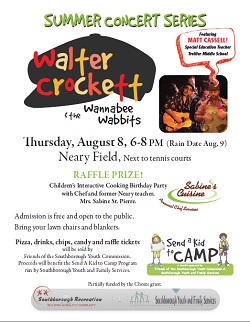 Wednesday, August 7:, 2013:
Wednesday Walking Group (8:30 – 10:30 am) @ Senior Center: Walk starts from the Senior Center
Thursday, August 8, 2013:
Big Ryan the Storyteller (11:00 – 11:45 am) @ Southborough Library: Big Ryan returns to the library for a morning of stories and fun. No registration is necessary.
Walter Crockett and the Wannabee Wabbits (6:00 – 8:00 pm) @ Neary Field: Part of the free concert series. Playing "Americana – Deft, Daft, and Dazzling".