Here are highlights of what's happening around town this week. For more details and the full list, check the Event Calendar.
Tuesday, August 20, 2013:
Community & Algonquin Book Discussion (7:00-8:00 pm) @ The Southborough Library. A public discussion of Algonquin's selection for "One Book, One School, One Community:  Never Fall Down by Patricia McCormick. Snacks will be provided by The Friends of the Southborough Library.
Wednesday, August 21, 2013: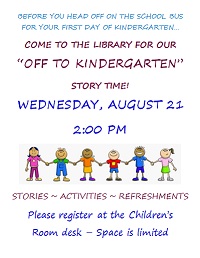 Off to Kindergarten Story Time (2:00-3:00 pm) @ The Southborough Library. All soon-to-be kindergarteners are invited to the library for special kindergarten stories, activities, and refreshments! Sign up in the Children's Room or by calling the library.
Senior Center's Annual Summer Picnic w/Representative Dykema (12:00-2:00 pm) Come enjoy a summer day with State Representative Carolyn Dykema. With food fresh off the grill, a DJ and a raffle, it's sure to be a great time. Please RSVP through Senior Center, 508-229-4453
Click to enlarge
Friday, August 23, 2013:
Movie Matinee – Quartet (12:00 pm) @the Southborough Senior Center. The room will be open at 11:30 if you would like to enjoy your lunch prior to the movie
Saturday, August 24, 2013:
Southborough Summer Nights (5:00 pm through Dusk) @ Neary and Trottier fields (Click here for previous coverage of this event, and look for more news tomorrow.)
Updated 8/20/13, 8:30 am: The Senior picnic will only run to 2:00 pm (not 3 pm as I previously posted.)