If you are concerned or confused about the effect that greenhouse gas emissions on our planet, you may want to come to the Southborough Library on Tuesday, September 17, at 7:00 p.m.
The Southborough Green Technology and Recycling Committee will be holding a talk.  Their goal is to form a network of individuals and organizations in Southborough who are concerned about the issues of greenhouse gas emissions.
This is a chance for residents concerned with the effects of CO2 increases to gather and talk. It is also an opportunity for anyone who wants to learn more about the issue.
The talk will begin with the presentation "400 and Rising" by committee Chair Carl Guyer. Some of the focus points: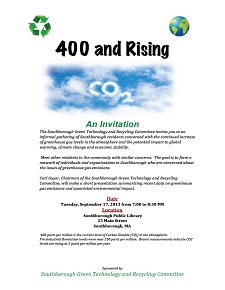 The 350 parts per million threshold is the maximum atmospheric concentration of carbon dioxide for a safe planet.
PreIndustrial Revolution levels were near 250 parts per million.

In May 2013, it was measured at topping 400 parts per million.

Recent measurements indicate CO2 levels are rising at 2 parts per million per year.
The potential impact to global warming, climate change and economic stability.
This will be followed by a discussion of what residents and organizations can do to help address the problem.