Recently, there has been a lot of discussion about coyotes in Southborough.
Several reports have been made to police and animal control. And there was a passionate debate among commenters on this site over the summer after I shared a resident's warning about a "mangy" coyote.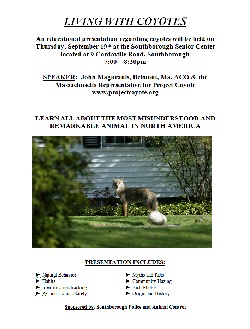 To educate the public on living with coyotes, Southborough Police and Animal Control are sponsoring a presentation by a representative of Project Coyote. The event will be held on Thursday, September 19, 7:00 – 8:30 pm at the Southborough Senior Center.
John Maguranis, Belmont, Ma. ACO & the Massachusetts Representative for Project Coyote will talk about "the most misunderstood and remarkable animal in north america".
To learn more about project coyote, visit www.projectcoyote.org.