Here are highlights of what's happening around town this week.
Two events  may inspire some fall cleaning, since you can now get rid of unwanted items – hazardous waste, white goods and equipment. Seniors, while you are going through your junk – don't throw out your old beaded jewelry. A jewelry class this week offers you the chance to refashion those beads.
For more details and the full list, check the Event Calendar.
Tuesday, October 15, 2013:
Wednesday, October 16, 2013:
Senior Center's Mohegan Sun Bus Trip (8:30 am – 3:00 pm): Call the senior center at 508-229-4453 for details.
Thursday, October 17, 2013:
Neary "Use Your Noodle" Night (6:30 – 8:00 pm) @ Neary School: For details or to register, click here.
Friday, October 18, 2013:
Jewelry Class for seniors (10:00 am – 11:30 am) @ Colonial Gardens: Bring your old or unused beads to make a new bracelet or pair of earings. The workshop will explore different types of beads, stringing materials, types of closures, color and design. Suggested Donation: $3.00; Please pre-register by Wednesday.
Matinee: 42 (12:00 – 2:08 pm) @ Southborough Senior Center: A dramatization of the ground breaking moment in history when General Manager Branch Rickey signed Jackie Robinson to the Brooklyn Dodgers. PG-13, running time of 2 hrs and 8 minutes. (The will be open at 11:30am if you would like to bring your lunch to enjoy prior to the movie.)
Saturday, October 19, 2013:
DPW's Hazardous Waste Day (9:00 am – 12:00 pm) @ Southborough Transfer Station: Disposal of "household hazardous waste" allowed today. You must have a valid permit to participate.
Metrowest Early Childhood Care & Preschool Education Fair (9:00 – 11:00 am) @ Fay's Primary School: Meet with 23 metrowest daycare centers and preschools. Halloween arts and crafts projects for parent and child. If you have questions, contact Nicole Casey at 508.490.8204 or ncasey@fayschool.org. To see a list of the 23 centers/schools attending, go to www.fayschool.org/preschoolfair.
Sunday, October 20, 2013: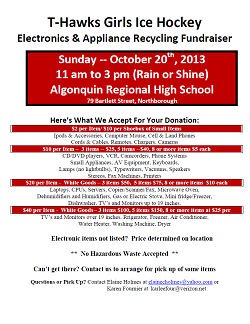 Electronics & Appliance Recycling (11:00 am – 3:00 pm) @ ARHS, 79 Bartlett Street, Northborough: T-Hawks Girls Ice Hockey Fundraiser. Recycle white goods and electronic equipment for a donation to the T-Hawks. (They won't accept hazardous waste, but that's OK since you will have dropped that at the transfer station on Saturday!) See flyer for details.
Pumpkin Painting Day (3:00 – 5:00 pm) @ Gulbankian Farms: rain or shine; $5 and up per pumpkin; There will also be face painting
RSVP: by Friday, Oct.18 to Gulbankian@aol.com or 508-485-8979.