Southborough's voter turnout was another low one for the Tuesday Special Election primary. Of the registered voters eligible to participate, only 8.58% cast a vote. 71% of those votes were for the Democratic Ballot.
Among Southborough voters, the popular choices didn't reflect the overall results for the 5th District.
The 5th District Democratic Primary winner (by 32%) was Katherine Clark. In Southborough, she only garnered 24% of the vote.
Southborough's top ballot choice was Karen Spilka, with 41% of the vote. She placed third in the district with only 13%.
In the Republican Primary, 42% of Southborough's voters chose Mike Stopa. He came in second for the 5th District with 26% of the vote.
The District Primary winner, Frank Addivinola, was in 2nd place in Southborough with 37% of the vote. (Of course, with turnout so low, that was only a difference of six votes.)
I've included charts of the primary results by district below for those of you who want more details.
Votes Cast for the Democratic Ballot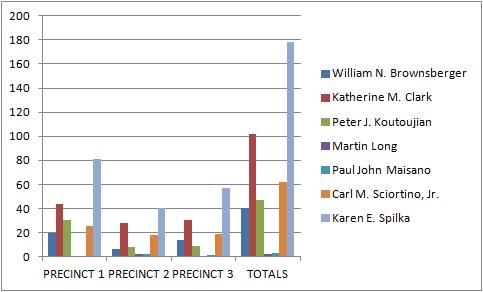 Votes Cast for the Republican Ballot