The annual Southborough Firefighter Association's parade is more than just that. It's also their free Halloween party and costume contest for the kids in town.
This year's event is on Sunday, October 27, 2013.
As usual, costumed participants line up across from Mauro's Market. At 4:00 pm, the parade heads up East Main Street to the Fire Station.
Inside the station, children are traditionally split into age groups for the costume contest. Contestants march single file by the association's judging panel, collecting sugary treats on the way. (My son's favorite part.)
At the end, the panel hands out trophies to winners in several categories. Past categories included scariest, cutest, and most creative.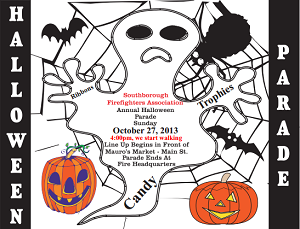 It's great fun to see the kids and families in costume.
Each year there are some surprisingly inventive costumes and some families with fantastic group-theme costumes.
And, of course, there are also little tots in ridiculously adorable outfits.
Hope to see you there!