Next month, Woodward SOS will be holding it's Ice Cream Social and Basket Raffle.
The event will take place on Friday, November 15, 2013 from 6:30–8:00 pm.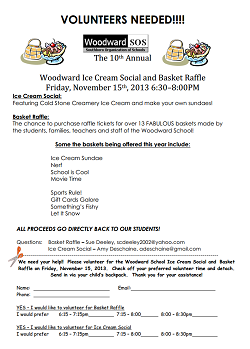 Families will make their own sundaes using Cold Stone Creamery Ice Cream. They will also be able to take chances on over 13 baskets in the raffle.
Basket items are donated by students, families, teachers and staff. They are organized around themes with some great diverse offerings.
The Woodward SOS is looking for people to help out at the event. If you would like to help, contact:
For the Basket Raffle – Sue Deeley at scdeeley2002@yahoo.com
For the Ice Cream Social – Amy Deschaine, adeschaine@gmail.com