Have you ever looked at tracks in your yard and wondered what made them?
Seniors interested in learning more about the wildlife that surrounds us can sign up for next week's Breakfast Club.
On Friday, November 8 at 10:00 am, the Southborough Senior Center is bringing in an expert from Mass Wildlife for a presentation on local animals.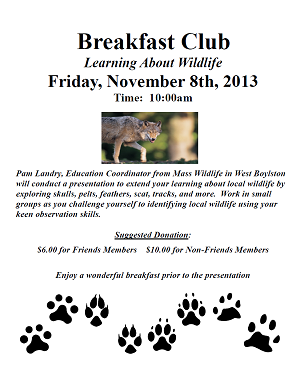 Pam Landry will teach attendees to identify wildlife by skulls, pelts, feathers, scat, tracks, and more.
Adding to the fun, she will encourage participants to work together in small groups.
Groups will be challenged to use their "keen observation skills" to identify animals based on what they've learned.
This is part of the Senior Center's monthly Breakfast Club series. So, of course, breakfast will be served.
The suggested donation is $6 for Friends of the Council of the Aging members and $10 for non-members.