Last week, I posted about Girls Lacrosse registration for Spring 2014.
I've since learned that registration has also opened this month for Boys LaCrosse, Soccer, and Girls Softball. And Boys Lacrosse has an information session for parents and players Wednesday night.
Here is the information you need.
Boys Youth Lacrosse
Registration is open for returning players.
New player registration opens this Wednesday, November 7th.
The league is open to grades 2-8.
The season begins in March for grades 3 and up, and April for 2nd grade. It ends June 15th.
Registration is $175 through November 2oth. (In previous years, boys who tried to register after the closing date ended up wait-listed.)
Organizers are holding an information session this Wednesday, November 6th, 6:30 – 8:00 pm at the Northborough Library
To register, visit www.nsyla.org
Southborough Youth Soccer Association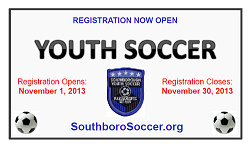 Registration is now open at $125.
For groups grades 3-8 registration closes November 30, 2013.  After that a late fee applies and there is no guarantee of an open slot.
For children who turned 5 by August 31st through 2nd grade, registration will stay open until the start of the season. (However, organizers urge you to register early.)
The season generally runs early April through early June.
To register, visit https://secure.adminsports.net/southboromasoccer.
Northborough-Southborough Girls Softball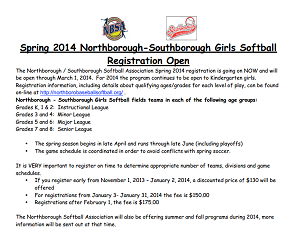 Discounted registration of $130 is available through January 1st.
From January through March 1st registration is open, but at increasing rates.
The league is open to grades K-8
Games generally run late April through late June (including playoffs)
To register, visit northborobaseballsoftball.org
Note: Southborough Youth Baseball registration will open in January. Look for more information at that time.
Updated (11/5/13 10:00 am): The Lacrosse event is tomorrow, Wednesday, November 6th. I kind of posted that, except I kept saying that was today. I think I stayed up too late last night!
(11/5/13 12:20 pm): Updated the soccer fee information.