Local artisans will be selling handmade crafts at the Southborough Community House on November 23, from 9:00 am – 3:00 pm.
This traditional one-day event features artisans from Southborough and nearby towns. They include painters, quilters, jewelry makers, knitters and even a glassblower.
My mother is one of the artists who has participated in the show several times over the years. As I make the rounds there, I'm always amazed at the breadth and depth of local talent and beautiful wares. It really is worth checking out. (And unlike large trade shows – entry is free.)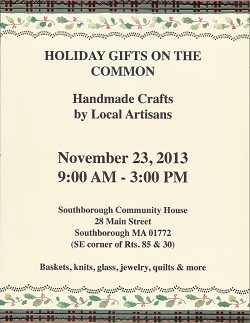 Holiday Gifts on the Common
Local artisans will sell their beautiful handmade crafts at this one-day shopping event at the Southborough Community House on Saturday, November 23, 9AM – 3PM.
Holiday Gifts on the Common will feature handcrafted baskets, children's knits, pottery, jewelry, quilts, soaps, cards, glass and more.
Whether you are looking for decorative items or personal accessories, you will find something special here! Entry is free.