At this week's Recreation Commission, board members discussed the fate of Southborough's 9/11 athletic field. The board voted to stop supporting the use of the field with a phase out by the end of 2014.
Commission Chair Joseph Laning submitted a letter to the town on Wednesday announcing the decision. (It's posted below right, click to enlarge.)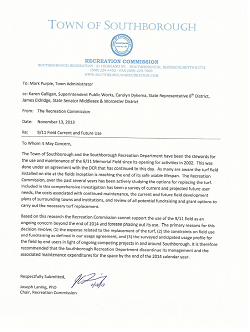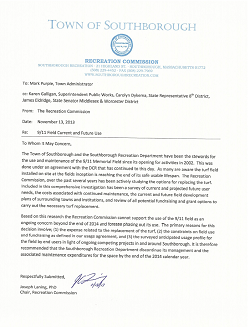 According to the Recreation Department, the artificial turf is worn out. Last fall, Department Director Doreen Ferguson told selectmen that replacing the turf would add 10 years of life to the field.
The etimated expense at the time was up to $500,000. Selectmen rejected asking residents to approve town funding.
In the spring, the Recreation Department announced they were kicking off a project to raise funds for the work.
The Metrowest Daily News covered the meeting where the decision to end field use was made.
According to their article, a local company offered to install the turf for free. That would have reduced the expense to $200,000. But the commission still couldn't find enough support to raise the necessary funds.
MWDN reports:
[Commission Chairman Joseph Laning] said the Commission tried all avenues, including grants, but wasn't able to gain momentum for fundraising or get the sense that revenues from future field use charges would support taking out a loan.

Part of the challenge, he said, is that the project is on state-owned land, and the state would not permit advertising on the field. He said the town is also barred from lighting the field, which cuts down on use.
Click here to read MWDN's full article.