Charity is in the air this week. Everytime I turn around there's a new fundraiser or drive to write about.
There's also quite a nip in the air this week. Which is why this drive I just learned about has a quickly looming deadline.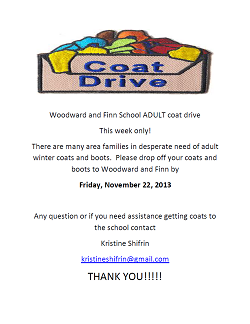 Woodward and Finn Schools are collecting winter coats and boots for adults this week. (Not to be confused with their recent drive to collect children's winter-wear.)
The deadline is this Friday, November 22. So act fast.
If you have any questions, contact Kristine Shifrin at kristineshifrin@gmail.com.