Algonquin Regional is putting on Damn Yankees, the baseball musical.
Director Tom Alera wanted to energize the school's production and turn it into a school event. So, he made a pitch to baseball players to take on some roles.
Alera successfully pulled together a cast of 53 students including school athletes. Even football players decided to get in on the action.
(Is it just me, or is this beginning to sound like a cross between High School Musical and Glee!. Let's hope without the backstage drama.)
Southborough lead players include: Brittany Price, Brian Kirk, Julia Baker, John Arnold, Thea Hickey, and Sam Deans.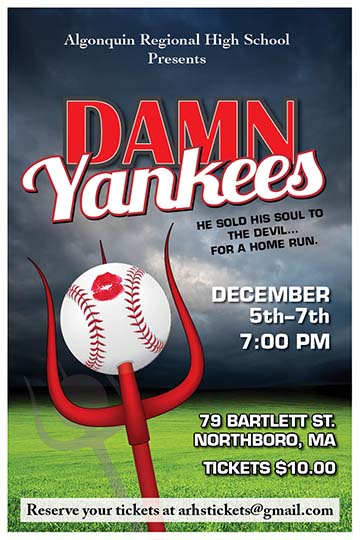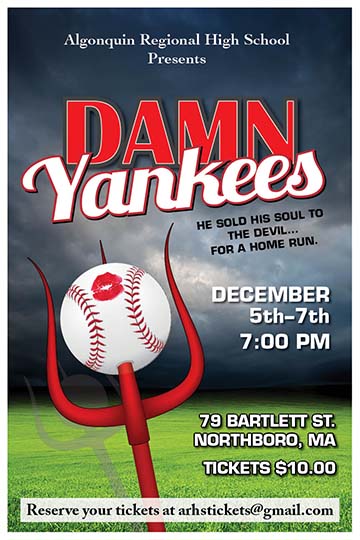 The musical is scheduled for the evenings of December 5-7. Alera is confident they will be ready.
The director, and ARHS English teacher, shared that he has a strong background in theater. He spent a lot of time studying and working in NYC as well as attended American Academy and HB studio.
He continues his education through workshops and stays connected to regional theater. (He is currently on the board New England Theater Conference for the secondary school division.)
He promises the cast is both working hard and having fun. He's been doing his best to put them through their paces. He even brought in another team – professional support.
Alera is working with a choreographer, vocal director, music director, and set designer. Together, they ensure everyone stays on task with the story, vision, and production that needs to be created.
Between an experienced director, professional support and authentic players – the cast is bound to knock it out of the park. (Did I just hear you groan?)
Performances will start at 7:00 pm and run for about 2hrs 15 minutes. Tickets cost $10 and can be reserved through ARHStickets@gmail.com.
For more information and rehearsal photos, check out the production's facebook page. There's even a video of the cast rehearsing the Shoeless Joe number.