This fall, Superintendent Dr. Charles Gobron invited the public to join a committee to consider improvements to the calendar. One of his stated goals was to have a less interrupted beginning to the school year.
One of the changes the committee proposes as a fix is removing religious holidays from the school calendar. The holidays are Rosh Hashana and Yom Kippur and Good Friday.  (Though in 2014, Yom Kippur will fall on a Saturday.)
Under the proposal, students would be allowed to miss school on their religious holidays. No tests or sports competitions would be scheduled for those dates.
Now the the K-8 and Regional school committees will have to decide whether or not the proposal is a solution they support.
The calendar committee submitted their memo and proposed calendar to the school committees at their combined meeting in December. They asked the committee to look over the proposal and wait until the January 29 meeting for a discussion. The vote is scheduled for February 13.
Some members of the school committee voiced objections at the December meeting. Detractors labeled the change as disrespectful of peoples' religions. 
The Metrowest Daily News reports that regional committee member Lynn Winters argued that it forces an unfair choice on students:
She said she believes eliminating the holidays ensures that children "lose either way" by forcing them to choose between missing school or missing religious services.

"We shouldn't be putting our kids in the position of choosing between two things that are good and important in their lives," she said.
Superintendent Gobron told the school committees that if they don't eliminate religious holidays, growing Muslim and Hindu populations could argue for future inclusion of their holidays. 
Gobron asked members to hold off on further feedback until the January 29 meeting. Subsequently, he posted the information on the district website for community feedback.
Anyone who would like to share their opinion on the matter can email clepore@nsboro.k12.ma.us.
To read the memo, click here. To enlarge the calendar below, click on it.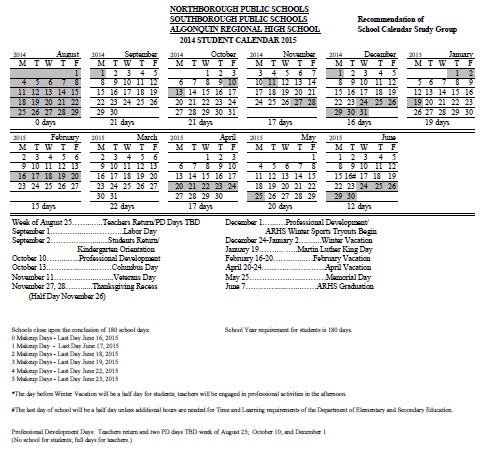 [*Want an example of a past calendar with all 3 holidays for comparison? Click here for the 2012-13 school calendar. I remember that September, grumbling with other parents about the crazy school calendar. During the first 7 weeks of school, only two of them were full weeks.]
What do you think?
Should separation of church and state mean that school is in session despite holidays?
Or should respect for religion in the community mean no school held on those dates to allow students to worship without missing school?
Is there anything else about the new calendar that you like/dislike?
Do you have another suggestion for schedule improvement?