The Boston Business Journal broke down by town the number of Massachusetts residents reporting income of a million or more for 2011.
Where we ranked depends on how you crunch the numbers. Out of the 223 towns listed:
By % of residents, we came in at 16. (Residents per millionaire filer = 102.65)
By # of filers per town, we ranked 25
Yet, our millionaires aren't as rich as those in other top ranking towns. Ranked by their average income, we came in 73.
Earning trends for town millionaires didn't reflect statewide trends.
From 2010-11, Southborough millionaires increased by 20% but their average earnings decreased by more than 55%, and total earnings by 47%.
In contrast, the BBJ reports that averaged across the state, filers increased by 8%, average earnings were only down 5%, and total earnings increased by 7%.
Here's some more numbers from BBJ*.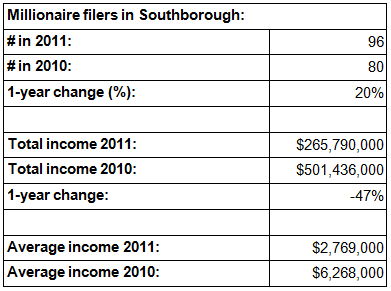 (*Figures above are rounded to millions)
For the full article, click here.