Southborough residents are invited to enjoy St. Mark's School's 22nd annual a capella festival.
The Wick Festival is an annual celebration of music that features the talents of local high school a cappella ensembles. Each night is capped off with a performance from a collegiate group, which provides an opportunity to embrace and enjoy the depth of talent within the a cappella community.
Here are this year's details.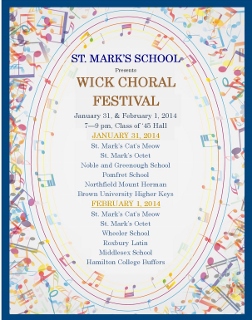 Wick Choral Festival
St. Mark's School
Class of '45 Hall
January 31 – February 1, 2014
7:00 – 9:00 pm
Schools performing on Friday, January 31:
St. Mark's Cat's Meow
St. Mark's Octet
Noble and Greenough School
Pomfret School
Northfield Mount Herman
Brown University Higher Keys
Schools performing on Saturday, February 1:
St. Mark's Cat's Meow
St. Mark's Octet
Wheeler School
Roxbury Latin
Middlesex School
Hamilton College Buffers
The event is free and open to the public.
Updated (1/27/14 9:45 am): Changes made to reflect school's correction and their new flyer. Both of St. Mark's singing groups are now listed as performing both nights.