There's been a lot of talk lately about the incoming Southborough Police Chief. But let's not forget about our former chief.
The police department will hold its official send-off for Chief Jane Moran next month.
To celebrate her retirement a reception is being held on February 15, 6:00 – 11:00 pm. The dinner will take place at Marlborough Country Club, 200 Concord Road, Marlborough, MA.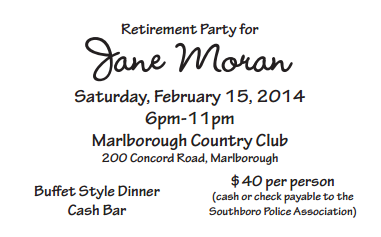 Tickets are on sale for $40 each at the Southborough Police Department.
Payment can be made in cash or check payable to the Southborough Police Association.