For months, a group of Neary students has been hard at work on their upcoming production. (From what I've been told, their efforts have gone well beyond the "Bare Necessities".)
Next week, the curtain will rise on more than 95 children performing Walt Disney's The Jungle Book Kids.
I know that 95+ kids seems like an overwhelming cast. In fact, program runners, Skyrise Children's Theater, agreed it was too big. Fortunately, there was a solution. They split the cast in two.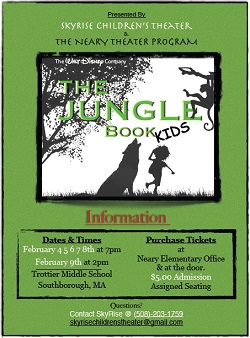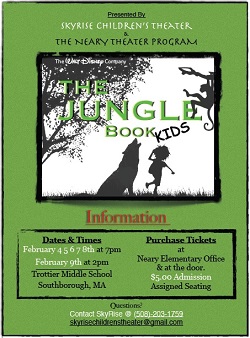 Skyrise co-owner, Tania Taylor tells me that  "Cast Tiger" and "Cast Toucan" will each have the chance to perform the play three times from February 4 – 9.
The play is about 1 hour long, beginning at 7:00 pm Tuesday – Saturday and 2:00 pm on Sunday.
Performances will be held in the Trottier Middle School auditorium.
Tickets are $5 each and available for purchase at the Neary office or at the door. Seats are assigned.
With six dates to choose from, I hope you'll heed their Welcome to the Jungle call.