The quick word is – Southborough Schools and Algonquin Regional High School are cancelled for Wednesday.
Superintendent Gobron made the decision tonight based impending storm and anticipated difficult driving conditions.
If I learn about cancellations for town resources and meetings, I'll update this post in the morning.
Update (2/5/14 8:58 am): Town offices are closed today and I'm sure that extends to the library as well. Of course there are other services that cancel whenever school is cancelled (e.g., the Senior Center, Southborough Kindergroup, and most preschools/daycares.)
This morning the National Weather Service posted some maps that appear to place us on the border of the 10-14 inch "mainly all snow" area, so hopefully at the lower end. The 1-2 inches coming down per hour should slow this afternoon and taper off this evening, ending early overnight.
Trying to keep track of school snow days? This is only the 3rd, which now puts the earliest school dismissal date to June 20th.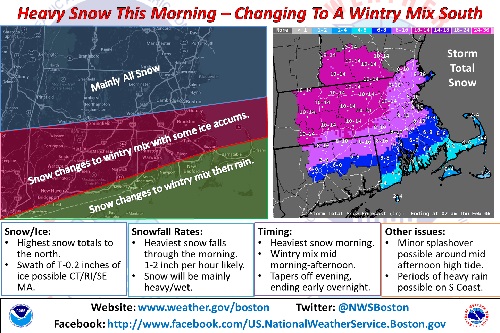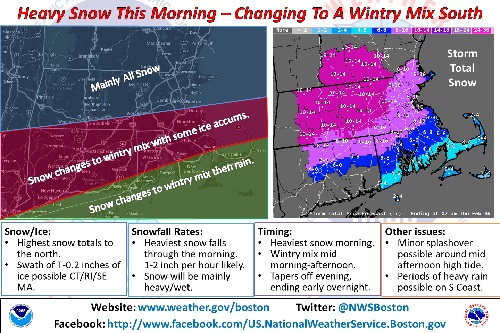 Update (2/5/14 9:13 am): Two more announcements shared:
NSPAC meeting tonight is moved (see comment section) and tonight's performance of The Jungle Book is cancelled. From Neary School Principal Linda Murdock:
Tonight's scheduled Neary theater performance of "The Jungle Book" will be postponed to Sunday, 5:00 p.m. Here's the schedule of remaining performances, all in the Trottier auditorium:

Thurs., Feb. 6th, 7:00 p.m. (Tiger cast)
Fri., Feb. 7th, 7:00 p.m. (Toucan cast)
Sat., Feb. 8th, 7:00 p.m. (Tiger cast)
Sun., Feb. 9th, 2:00 p.m. (Toucan cast), and 5:00 p.m. (Toucan cast — the Wed. evening performance)

I am hopeful that the remaining performances will be fine, but available snow dates in case of more snow are Monday and Tuesday, Feb. 10th & 11th.