If you are looking to encourage your 5th – 8th grade daughter(s) to explore a future in science or math, take note.
The Northboro Junior Woman's Club is holding its 8th "Women in Science & Math Conference" on Saturday, March 15 from 8:30 am – 1:30 pm.
The event is free and welcomes Southborough students – so I really encourage you to make the most of this opportunity.
Enrollment is limited to the first 120 girls (5th – 8th grade) and due by February 26.
The conference will be made up of an opening presentation, workshops and informal discussions over a luncheon.
Interactive workshops planned are: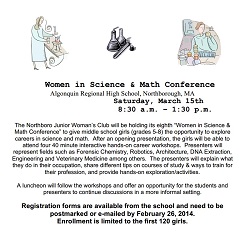 Architecture
Environmental Health & Safety Engineering
Occupational Therapy
Robotics
Veterinary Medicine
Science Teacher
Civil Engineer
Research Scientist
Medical Doctor
Dollars for Divas (managing a 22 yr old's budget)
Nursing
Forensic Chemistry
Workshop presenters from a wide range of science and math backgrounds will:
explain what they do in their occupation, share different tips on courses of study & ways to train for their profession, and provide hands-on exploration/activities.
To see more event details or to register, click here to open a printable registration form. (For a better look at the above flyer, click on it to enlarge.)
Thank you Northborough Junior Women's club for organizing such a worthwhile event. And for free! I hope they are still holding these until my daughter is old enough to participate.