Heard the buzz? The 7th annual Spelling Bee is coming up next Friday, February 28.
Last month, Southborough Education Foundation put out a call for event sponsors. Apparently, it worked.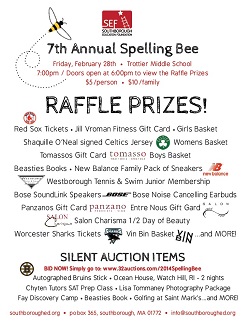 Their flyer shares an impressive array of raffle and silent auction prizes. (Click to enlarge.)
Translating that to fundraising success, requires public support.
So, mark your calendars for a fun and educational family night.
Kids will enjoy seeing teams of teachers, administrators, parents, students and local businesses "dressed to spell".
Hopefully, older kids will also catch the spelling bug and challenge themselves to spell along. (A program and pencil is provided to each audience member.)
Admission is $5 per person and $10 per family. The doors open at 6:00 pm for the raffle and auction. The Bee begins at 7:00 pm.
If you are more interested in the prizes than the spelling, you can get started right now. Visit www.32auctions.com/2014SpellingBee to view and bid on the silent auction.
To see a slideshow from last year's event (which raised $27,000), please visit the SEF website at www.southboroughed.org.
To learn more about SEF and why they raise funds, read their My Southborough community organization profile.