The annual Southborough Rotary Talent Show takes place on Friday, March 7, at 7:00 pm in the auditorium at Trottier.
I don't know who will be getting up on stage this Friday. But performers were selected through auditions that invited grades 5 and up to tryout.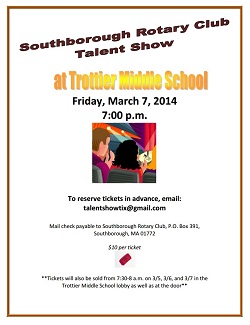 Susan's post from last year describes past shows as featuring a lively assortment of signing, dancing, juggling, and more.
It's a popular event, so if you're thinking about going, consider getting your tickets in advance.
Rotary members will be selling tickets in the Trottier lobby before school this Wednesday through Friday.
You can also hold seats by emailing talentshowtix@gmail.com.
Tickets are $10 in advance. You can also get tickets at the door while they last. (From past years, it looks like the "at door" ticket price may be higher.)