NSPAC (the Northborough/Southborough Special Education Parent Advisory Council) has teamed with the Hudson PAC to bring a presentation on civil rights for parents and children.
The Special Education PACs want to ensure that parents understand when their families are being discriminated against:
Knowing your rights and how to exercise them is key to ensuring your family is treated equally.
On Thursday, March 20th, the Office of Civil rights will explain: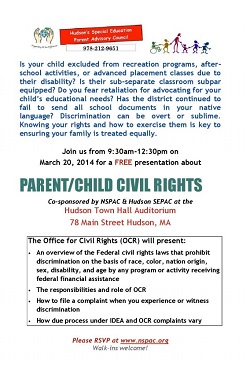 Federal civil rights laws that prohibit discrimination on the basis of race, color, nation origin, sex, disability, and age by any program or activity receiving federal financial assistance
The responsibilities and role of OCR
How to file a complaint when you experience or witness discrimination
How due process under IDEA and OCR complaints vary.
The free presentation will take place from 9:30 am – 12:30 pm at the Hudson Town Hall Auditorium, 78 Main Street Hudson.
Registration is encouraged (through www.nspac.org) but walk-ins are welcome.