Today may be cold, but rainy days are coming. It's the time of year that we start breaking out the spring clothes, raincoats, and boots.
It's also the time when we start getting rid of things our kids have outgrown. A Trottier Middle School student hopes you'll send those things his way. (Or maybe grab a new pack of undies or socks while you're spring clothes shopping.)
Dylan Logan is the 8th grade student representing Trottier in Governor Patrick's "Project 351". Each of the 351 middle schools in the state nominate an ambassador to work on the projects' volunteer efforts for non-profits.
Their current effort is supporting Cradles to Crayons:
Cradles to Crayons provides children from birth through age 12, living in homeless or low-income situations, with the essential items they need to thrive – at home, at school and at play.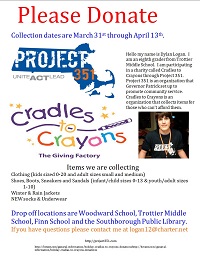 Logan is setting up collection bins at Woodward School, Trottier Middle School, Finn School and the Southborough Public Library for March 31st – April 13th.
He is seeking the following donations:
Clothing (kids sized 0-20 and adult sizes small and medium)
Shoes, boots, sneakers and sandals (infant/child sizes 0-13 & youth/adult sizes 1-10)
Winter & rain jackets
NEW socks & underwear
If you have questions please contact him at logan12@charter.net