Friends of the Southborough Recreation Department will be hosting an afternoon of family fun at the South Union Playground. "Hop into Savings" on Saturday, April  5 from 1:00 – 3:00 pm.
For the kids, they are offering entertainment and refreshments. At 1:30 pm Storyteller, Todd Goodwin will entertain the crowd with campfire stories and sing-a-longs.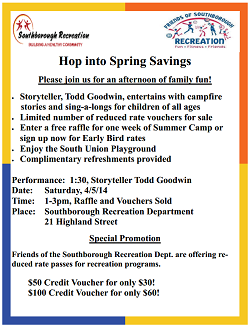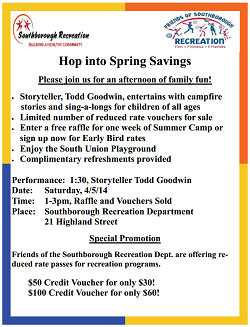 For parents, the draw is the reduced rate passes* for any programs through town rec (including RAP or Summer Camp):
$50 Credit Voucher for $30
$100 Credit Voucher for $60.
Better yet, is the free raffle drawing for one week of camp.
While there, you can also sign your kids up for summer camp at the early bird rates.
*Vouchers are limited in availability, first come first served, one per family.