For my kids, as many in town, the Community House is that place where Santa and the Easter Bunny make a pre-holiday visit to Southborough children every year.
So we're looking forward to the annual Southborough Kindergroup Easter Egg Hunt.
This year (as most) the whole community is invited, as long as you pre-register and pay in advance. The hunt is Saturday April 19, but registration deadline is this Friday, April 11.
The cost is $5/child, $10/family (2 or more participating children).
To register, go to www.SouthboroughEggHunt.com. (You will need to follow up by sending in a check with your name clearly printed to: Samantha Dlott, 6 Autumn Hill Lane, Southborough, MA 01772.)
The event on the 19th begins at 9:30 am with Easter activities and games for the kids. The hunt will start at 10:30 am.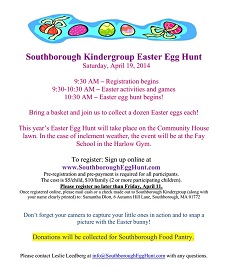 Children are encouraged to collect a dozen eggs each. Families should bring their own baskets.
Participants are also encouraged to bring a donation for the Food Pantry.
And if your kids are willing to pose with the Easter Bunny, be sure to bring your camera for a snapshot!
Note: this year, they have a backup plan for rain. In the case of  inclement weather, the event will be moved to Fay School's Harlow Gym.