Here are highlights of what's happening around town this week. For more details and the full list, check the Event Calendar.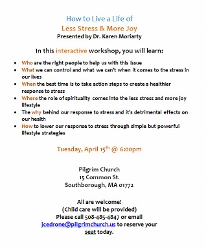 Tuesday, April 15, 2014:
How to Live a Life of Less Stress & More Joy (6:00 pm ) @ Pilgrim Church, 15 Common Street: An interactive workshop by Dr. Karen Moriarty. Learn how to lower your response to stress through simple but powerful life strategies. Child care will be provided. Call 508-485-4847 or email jcedrone@pilgrimchurch.us to reserve a seat. (Click flyer for details)
Wednesday, April 16, 2014:
Friday, April 18, 2014:
No public school – Beginning of April vacation
Senior Center Matinee – Gravity (12:00 pm – 1:30 pm ) @ Southborough Senior Center: Free movie screening of the dramatic sci-fi action-thriller starring Sandra Bullock and George Clooney as astronauts detached from their ship and stranded in space. (The movie received 10 Academy Award nominations.) PG-13. Room will be open at 11:30 for anyone who wants to bring their lunch.
Saturday, April 19, 2014:
Southborough Kindergroup's Easter Egg Hunt (9:30 am – 11:00 am ) @ Southborough Community House: The pre-registration deadline was Friday, April 11. For more details, read last week's post.