The Steeple Coffeehouse will conclude its 18th season with "No Fuss and Feathers Roadshow" on Saturday, June 21. Musicians include singer-songwriters Carolann Solebello, Karyn Oliver, and "The Yayas" (Catherine Miles & Jay Mafale).
Their musical style is described as folk.
The obvious friendship of Carolann, Karyn, Catherine, and Jay adds to the unabashedly fun and festive atmosphere of a NFFR show. Their audience can't help but feel part of the onstage camaraderie.

The four are also nationally touring performers that have charted at the top of major Folk and Americana radio lists, appeared on stage at some of the most respected festivals, been invited to formally showcase at Folk Alliance conferences across the country, and whose songwriting has been recognized by such highly regarded competitions as Kerrville New Folk, Falcon Ridge Folk Festival, Songwriter's Serenade, Susquehanna Music & Arts Songwriting Competition, and Mid-Atlantic Song Contest.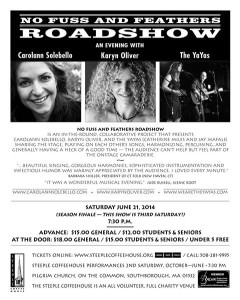 The performance in Pilgrim Church's Fellowship Hall is at 7:30 p.m. Doors open at 7 p.m. Tickets are $15 in advance ($12 for students/seniors through Brown Paper Tickets) or $18 at the door ($15 for students/seniors). 
Proceeds from the refreshment sales are donated to local and regional charity. As is their tradition, organizers are also requesting people to bring donations for the Southborough Food Pantry.
For more details, visit the Steeple Coffeehouse website (steeplecoffeehouse.org).