GoLocalWorcester.com ranked Algonquin Regional High School number 33 (up from 42) in its third annual ranking of high schools in the state. Weston High School has taken first place for the second year in a row.
Recently, ARHS was ranked 23rd nationwide, by U.S News and World Report. Both rankings use "proprietary" methods to weigh data they use.
In GoLocal's rankings ARHS came in just after Westborough High school at No. 4 in the Central Mass. rankings and just above Hopkinton.
GoLocal didn't explain its methodology but shared the stats they used.
Compared to Westborough, ARHS spent less per student and had slightly higher profiency ratings, but had a one point lower SAT average.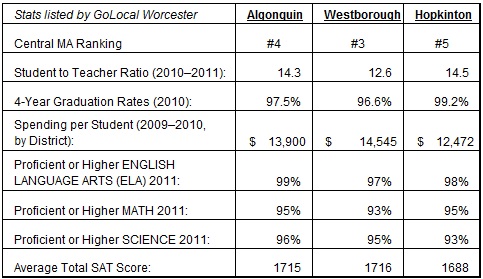 Westborough High School Principal Brian Callaghan commented to GoLocal on testing challenges:
Callaghan "acknowledges the loss of time attributed to keeping up with both state and national testing as one of the biggest hurdles to overcome moving forward. While time may be lost due to these tests, Callaghan states that the school's curriculum and assessments are helping students to achieve high test scores."
Here's a quick look at how neighboring high schools in the state and in Central Mass. ranked:
Westborough – #26 statewide; #3 in Central Mass.

ARHS – #33 statewide; #4 in Central Mass.
Hopkinton  – #53 statewide; #5  in Central Mass.
Framingham – #58 statewide
Shrewsbury –  #117 statewide; #13 in Central Mass.
Hudson – #154 statewide; #20 in Central Mass.
Marlborough – #162 statewide: #23 in Central Mass.
To view a slideshow of the top high school's statewide, click here. To view a slideshow of Central Mass' top high school's, click here.