Above: Preserving land and keeping Soutboorugh's rural charm is Southborough Open Land Foundation's (SOLF) mission. This weekend, SOLF members can save money on their outdoor gear.  (Photo by Susan Fitzgerald)
Shopping near Northborough Crossings this weekend?
Southborough Open Land Foundation (SOLF) would like to remind members that they can save 25 percent off  Eastern Mountain Sports (EMS brand items and 20 percent off everything else this Friday and Saturday (July 12 – 13) at EMS in Northborough at 8104 Shops Way.
(Maybe you could pick up some footwear appropriate for hiking the Beals Preserve or binoculars to use on their next guided nature walk.)
Don't have a membership? Become a SOLF member today.Visit www.solf.org and use your receipt as proof of your membership at checkout.
Members can also use their cards to open bank accounts at all Digital Federal Credit Union (DCU) locations. Check out their rates here.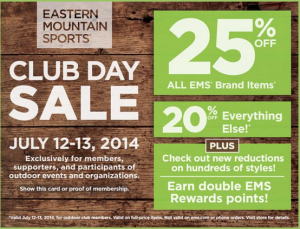 SOLF's mission is to preserve and protect open land and rural character in the town of Southborough. Since, 1988 SOLF has preserved 181 acres of open land in town.
(NOTE: discount is valid on full priced items only)