After a series of Southborough Recreation efforts to build a skate park for the town's growing number of skateboard enthusiasts, the committee is now seeing its hard-earned efforts come into fruition.
A wooden skate park, complete with ramps, boxes and rails at the Finn School tennis court is expected to be completed by the end of this month.
After discussions with Marlborough Recreation, Southborough Recreation learned of building on tennis courts through a reputable skate park builder. "It cuts down on the cost considerably since you don't have to put in a new surface, " said Doreen Ferguson, director of Southborough Recreation. 
The tennis courts at Finn were chosen since they are not widely used,  according to Ferguson.  She explained that the commission decided to built the skate park out of wood based on cost and that
if needed, it could be moved and it also reduces sound (compared to metal).  Additionally, if the Recreation Commission chooses to convert back to a tennis court they can easily do so by relocating the skate units elsewhere and resurface the court.
Builder Bill Giordano said, "[the commission] picked a perfect place because it's smooth; there's no need to resurface the tennis courts." He will be putting in Skatelight, a ramp surface on the wood fixtures next week. Almost half of it's completed right now, according to Giordano.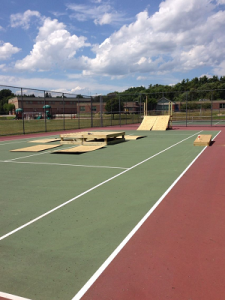 In June 2009, more than 20 Southborough children, teens and their parents attended a selectman meeting to lobby for a skate park. Selectman approved, but recommended the Skate Park Committee to look into other locations. Ever since then, the project has been put on the back burner. Ferguson cited the depressed economy and options of where to build the park, as cause for delay in construction.
The Skateboard Park Committee originally planned on building a concrete park where the volleyball court was at Woodward School (Choate Field). Other locations included a town-owned empty lot across from Fay Field on Central Street in Fayville, which was rejected by Selectman.
Southborough Recreation plans to offer clinics and bring back its popular after school skate boarding programs in the fall. Exact days and times have not been determined.
Ferguson said, "We hope that Southborough skaters will enjoy the new facility which they have waited so long for."