The Southborough Library is allowing another local artist to display his work. Natick artist Rob Franco's oil paintings of boats, ponies and New England wildlife now line the Southborough Library's downstairs meeting/event room.
Franco's fascination of the ocean and other bodies of water inspire much of the work. Franco writes:
looking into a tidal pool or the reflection of a boat on the water gives me an emotional feeling of calm. . . and the light and colors are ever changing. Finding these opportunities is always exciting and priceless to me.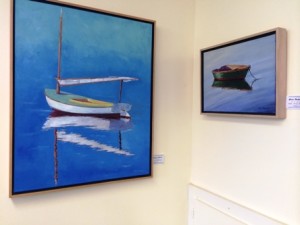 His passion for art began at an early age while visiting an artist in Newport, RI. Franco trained as an illustrator in the US Air Force and then continued as a graphic artist in the Boston area.
The artist's passion soon turned to oil painting after studying pastel works in New York. He explains:
This medium allows me to build paintings with texture using palette knifes, brayers and assorted brushes
Franco's work will be on display through August. A reception for the "gallery" will be held at the Southborough Library on Monday, August 21 at 6:30 pm.
For more information about Franco or how you can purchase some of works, click here.
If local Southborough artists are interested in displaying in the Eaton Meeting Room, contact Library Director Ryan Donovan by calling 508-485-5031.