Curious about composting? Ever wondered how it works?
Southborough's Green Technology and Recycling invites residents to stop by the Transfer Station this Saturday, August 16, (8:00 am to 1:00 pm) for a special opportunity to learn more about composting.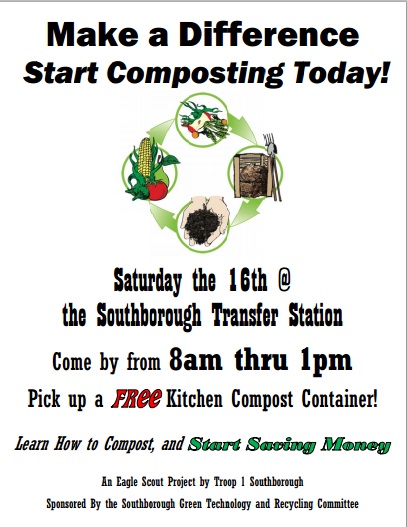 Eagle Scout candidate Dan Willis will be there to answer questions and distribute free kitchen composting containers.
"Dan's project is hoping to jump start the practice of composting in Southborough households thereby reducing the volume of waste disposed of at the Transfer Station, " shared Southborough Green Technology and Recycling.
Updated (8/15/14 10:00 am): Shared Dan Willis' flyer and updated to reflect the times he'll be at the station.